Coronavirus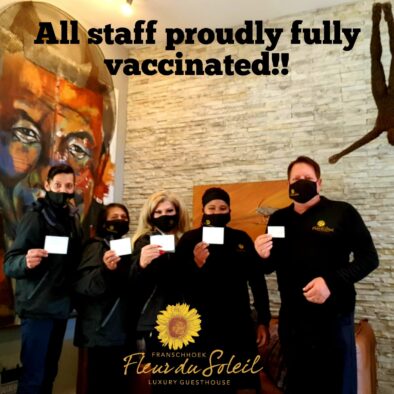 We are proud to announce that all of our staff have voluntarily been fully vaccinated against COVID-19!
As a valued guest, and partner of ours, you have come to expect and enjoy the Fleur du Soleil experience when you visit our property. This commitment to service excellence will not change, however as the world we live in has now changed, we need to adapt. We want to be absolutely sure that when we welcome you again, we have taken every necessary precaution to minimize the risk of infection and transmission of COVID-19 to employees, contractors, and overnight guests. We will endeavor to continue to offer experiences with the highest measures of health and safety standards in place.
At Fleur du Soleil, we value the wellbeing of our staff and guests. Now and always, your health and safety remain our top priority. To mitigate the spread of COVID-19, comprehensive health and safety measures and standards of operations have been implemented throughout the guesthouse. These are in accordance with the guidelines provided by the South African Department of Health (NDoH), the National Institute for Communicable Diseases (NICD), South African Government and World Health Organization (WHO).
Your future interaction with us at Fleur du Soleil protects every aspect of the guest experience and at all touch points you will observe a heightened difference.
Our policy includes and is not limited to the below:
The appointment of a COVID-19 Health and Safety officer to ensure adherence to the protocols.
Guests, staff, visitors, and contractors to adhere to medical declarations / travel arrangements
Guests, staff, visitors, and contractors' temperature monitoring
Guests, staff, visitors and contractors' information dissemination and briefings
Staff training on Health and Safety Protocols
Guests, staff, visitors, and contractor's various levels of Personal Protective Equipment
Heightened sanitising and hygiene practiced in all areas of operation including:

Transfers and shuttles to and from Fleur du Soleil
Arrival at Fleur du Soleil
Reception, bar area and lounge
Housekeeping (back of house, public areas, and guestrooms)
Food Service Areas, Room Service and Kitchen
Maintenance (back of house, public areas, and guest rooms)
Contractors / 3rd Party / Stock Delivery / Loading Bays
Staff areas (staff entrances, staff change rooms, etc.)
Office and office staff
Special attention areas will include:

Hand washing & sanitizing
Surface areas sanitizing
Luggage handling
Cash handling
Removing unnecessary surfaces / areas / equipment / procedures
Physical distancing standards
Collecting as much information as possible at reservations and not on arrival
Capacity and Social Distancing Controls

Reception, Bar & Waiting area
Queues if any
Vehicles – Chauffeured
Pool Areas
Standard procedure for guest, staff, visitor or contractor with COVID-19 symptoms or confirmation of infection
We hope this gives you the insight and comfort you need to reassure you that as always Fleur du Soleil places our guests, staff, visitors, partners' health and safety at the forefront of the experience we offer you.
Looking forward to welcoming you to Fleur du Soleil in the very near future